Embroidered towel with Christmas mice
Hooray! The Christmas is nearing, and that means we can use the wonderful Christmas embroidery designs again. Cheerful fur-trees, reindeers, stars, and Santas with bulging sacks of presents… oh, wait.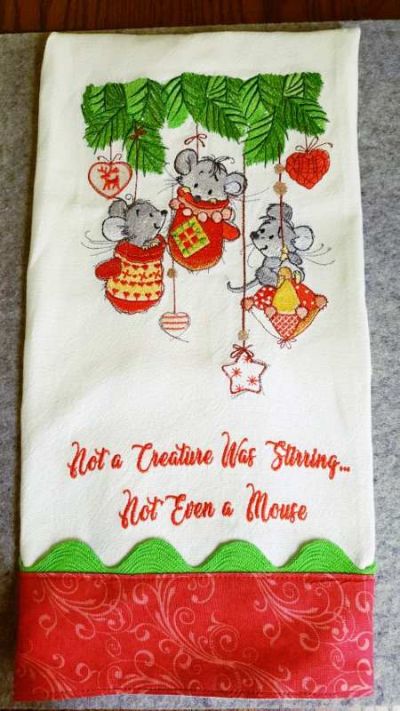 Haven't we already embroidered half the house with all of the above? So… no Christmas embroidery for us this year? By no means. Here's the machine embroidery design with three mice hanging from a tree. A tree with leaves. What's so Christmassy about it, then? Well, there is a small reindeer, and the toys, and stockings, and the merry inscription – festive enough! Look at it, isn't it charming?
Now, where will we put this Christmas mouse embroidery design? How about a towel? An embroidered tea or dish towel to bring color and joy to your kitchen.
Kitchen towels are usually made of cotton, and cotton may shrink after washing and drying, causing your design to pucker. In order to avoid it, don't forget to launder and dry your towels prior to the embroidery.
Print out a template for your future design. The one we have here today is not large; it will only occupy a part of a big dish or a tea towel. You can put it in the corner, at the center or on the side. Please remember to leave the allowance for hooping. Position you print-out at the selected place and carefully mark the center, the horizontal and vertical lines with an erasable marker.
Experienced embroiderers say that a medium weight (2.5–3 ounces) cutaway stabilizer is the best for embroidering stitch-filled designs on cotton kitchen towels, because it will continue to maintain the embroidered area flat even after many launderings. You may additionally secure it with temporary spray adhesive so that it doesn't shift during the stitchout. Hoop your towel and the piece of stabilizer together. Put the hoop into the machine, align the needle with the marked center of the design and hit the start button. You'll need a 75/11 needle. It's better to use polyester threads – the rayon ones will fade quickly after many washings.
After the embroidery, trim the extra stabilizer from the back. Happy holidays!
Comments
Posted by
michelle1718
on
Nov 8th, 2020
This is so adorable
You must be logged in to leave a reply.
Login »
New free embroidery designs
available only for customers via our Reward Points program
Last photos 
All photos with our embroidery designs in Gallery
Look at a huge number of beautiful and successful real projects with our work. You can us tags for search.