Immediately after downloading the aforementioned embroidery design
get several options, discount, bonuses that admit use product 100%. Included benefits
| | | |
| --- | --- | --- |
| Listed sizes. No additional fees. | Safe buy, access design files beyond restrictions. We keep every orders. | Any format or all at once. Add or change an extension when needed. Receive obtained digital art again. |
|   |   |   |
Similar popular patterns


Comments
Bobtuffy
on
Jan 31st, 2018
Beautiful embroidery
Oscar1L
on
Sep 21st, 2018
This is really sweet scene ! sewed out great! Not only did this stitch up beautifully but it's a great price too! Thank you!!!!
Willow987
on
Nov 9th, 2018
Downloaded the Pointe shoes design. Would exactly embroider it very soon. Probably I'll send you a picture of the result. Should be perfect. See you soon!)
only one size is showing up on my download, but several sizes are shown on the site
We have solved the problem, these files are available for download in your order list. We also sent these files to you via email. We apologize for any problems.
Kcolbert09
on
Feb 6th, 2019
Love how this ballerina's shoes stitched out! It's so versatile and adds so much to a project. My sister very happy.
annnorman4
on
Jun 23rd, 2019
Very nice design, love this! I have already used it several times. I will not hesitate again to purchase from this shop.
HollyPaddock
on
Dec 11th, 2019
As always, can't go wrong with this shop embroidery designs. They always stitch out great . It was the perfect touch for the blanket I was gifting to a little girl who takes ballet.
NicoleLittleP
on
Apr 7th, 2020
Very happy with purchase. Exactly as described. Stitched out beautifully. Will order from this shop again.
KatherineGreen
on
May 8th, 2020
Thank you so much. I love this design. I had been looking for a good ballerina shoe design and this was perfect for my project. Awesome!
JoeysArtworks
on
Mar 2nd, 2021
It was exactly the design I was looking for. My granddaughter loved this design!! Worked up great!!
You must be logged in to leave a reply.
Login »
How can this design be used?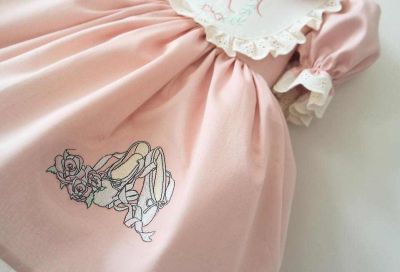 Covers and bags for storing shoes. For lovers of dancing, you can embroider a bag or a small bag in which you can store sports shoes for dancing. Beautiful product will be a wonderful gift and a thing that is needed every day. Embroidery will make the product more individual and easily recognizable. Making such a cover is not a difficult thing, even for inexperienced craftswomen. You can take any bag as a basis and make a pattern out of it. Fabric choose softer.
A bag for storing shoes ballerina embroidery. Materials:
Cotton without pattern (2 pieces)
Cotton monophonic (1 piece)
Sulky tear-off stabilizer glue
Machine Embroidery Top Thread 
Machine embroidery bobbin thread
Vanishing marker
Water soluble glue stick
Scissors
Pins drawstring
Machine Embroidery Design
Note:Do not forget to leave a hole that is not sewn up, through which you can turn the product onto the front side! Before turning on the front side, cut off the corners without touching the seam. In this case, turn the corners will be easier and they will look more aesthetic. Ironed out the workpiece, and sew the hole with a secret seam.
A gift can be not only things purchased in the store. Much more joy and pleasure will bring gifts made with their own hands. When you create which you can take into account the interests of the one to whom you give your thing. In this case, an embroidery machine will come to your aid. Beautiful dress as a gift to a young ballerina or lover of dance. Embellished with machine embroidery with pointe. It is perfect for your granddaughter or daughter. Large beautiful embroidery will be a bright element of the decor. A good example is when needlework is an opportunity to express a person's individuality.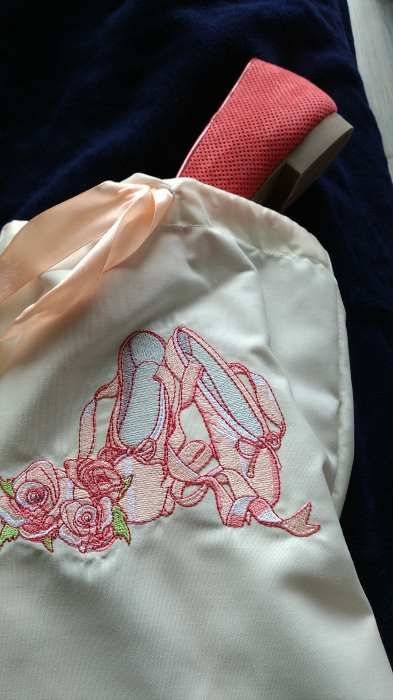 Note: Commercial use of our machine embroidery designs. Designs listed on this page you can use in your business. You can embroider, and sell embroidered products. Change designs of your own choice. Add or remove various design elements. Use together with inscriptions or other designs.
Limitation. Production of not more than 100 embroidered items. If you want to produce products with our designs in greater quantities - please contact us.