Ask a question about this design.
The Christmas season is approaching so fast! We're this close to the happy days full of family time, colorful presents and tasty dinners. Have you already prepared Christmas presents for your loved ones? It's high time to do just that but this year, go an extra mile and personalize your gifts with this adorable embroidery design. It features a Christmas deer dressed in a stylish red hat with a traditional Scandinavian pattern. Its antlers are sticking out of the hat funnily and the deer also has a warm red scarf on. This heartwarming and colorful design will be a perfect addition to any Christmas present.
Please look similar popular patterns.
Comments
Posted by
khimmelsbach
on
Oct 19th, 2018
Can't wait to use this pattern. Very cute!! love the design! Thanks.
Posted by
torene3
on
Oct 20th, 2018
Haven't actually used just yet, but am sure it will be great. Have purchased from this seller and extremely pleased.
Posted by
LiaBailey
on
Oct 22nd, 2018
Great designs. Very fast, highly recommend this site to anyone!
Posted by
msemb25
on
Oct 23rd, 2018
Great Christmas design for adults and kids ! Easy to use! Just added a name and had a cute shirt!
Posted by
epellet123
on
Oct 27th, 2018
Came out perfect!!! I was even able to add a letter to the middle!! So very pleased with this item!!!
Posted by
idahrijal
on
Oct 28th, 2018
Letters sewed up great! I id this on a winter shirt, and was pleasantly surprised! Thanks!
Posted by
CMquilts
on
Oct 30th, 2018
Exactly what I was looking for, stitched out wonderfully!
Posted by
SophieSimons
on
Oct 31st, 2018
It's a perfect idea for Christmas gifts. Love it! I'm sure, my little daughter would love it as well.
Posted by
TeresaKirktailor
on
Dec 12th, 2018
Had just embroidered the stylish deer on a towel. Digitized perfectly and turned out better then I expected. Thanks to the designer! Very good idea for embroidering!
You must be logged in to leave a reply.
Login »
How to use this design.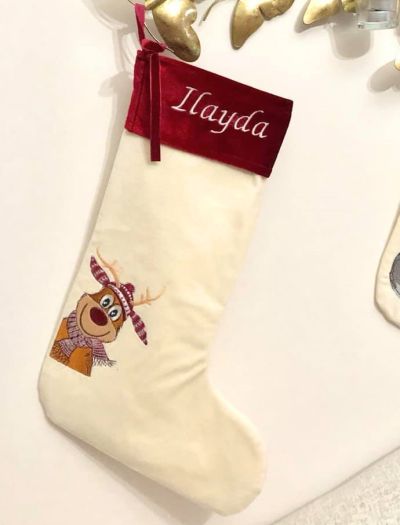 Christmas stocking is one of the most popular decorations of the winter house. It put gifts to children. Outwardly very simple, it perfectly symbolizes the coming holiday of Christmas. Making such a project, you should definitely decorate it with embroidery. So it will be a bright element of the living room. If there are many children in your family, make a few different socks and add the name of the child to each.
This project ideally shows the implementation of such a project. Decorated with an embroidery of a deer, it can become a gift by itself .. Well, if you fill it with candies, then there will be no end to delight (until the candies run out).
Pattern sock or boot is not difficult to find on the Internet.
Our benefits:

Instant download design after paid


Over 14 embroidery formats

Tested embroidery designs


Progressive discount system

Several sizes with one payment

No VAT and FEE , we pay it.

Additional bonus free embroidery designs



New embroidery projects
with our works
New free embroidery designs
available only for customers via our Reward Points program
Last photos 
All photos with our embroidery designs in Gallery
Look at a huge number of beautiful and successful real projects with our work. You can us tags for search.