Snowmen can be cute and friendly but some of them are also quite stylish! This particular one featured in our embroidery design is very eye-catching, for sure. This beautiful composition features a snowman dressed in a richly decorated top hat, scarf and a pair of mittens. The rest of its body is decorated with a traditional winter landscape, snowflakes and deer. A mix of ice blue, mid lilac, saffron, auburn and dark rust makes a glorious winter color palette. Stitch out this application to T-shirts, sweaters, hoodies, towels, bed linen, cushions, blankets, quilts, pajamas, bathrobes and more.
Please look similar popular patterns.
Comments
Posted by
suzie71
on
Dec 14th, 2018
This snowmen came out perfect. Thanks again!
Posted by
LidiaQ
on
Dec 16th, 2018
Embroidered the stylish snowman recently. It is wonderful! I discovered the nesting box just on a towel! )) Digitized perfect, looks even better than on a picture. THanks!
Posted by
outback43
on
Dec 31st, 2018
Beautiful to stitch out . Nice digitizing.
Posted by
carohrig
on
Jan 8th, 2019
I used the PES format – I have the Bernina Deco 340 but it does not give me that option. So I cannot select anything. Is this perhaps why it wont allow me to download free patterns
Posted by
Support
on
Jan 8th, 2019
Your embroidery machine uses ART format. We checked your account and found that you are already using it.
Posted by
AngieMcLaughlin
on
Nov 3rd, 2019
I have purchased many designs an from this shop and have never been disappointed. Everything is always perfect!
Posted by
Etsuko77
on
Jan 15th, 2021
This is a fantastic design - one of the best I have ever done. It is beautiful! I highly recommend.
You must be logged in to leave a reply.
Login »
How to use this design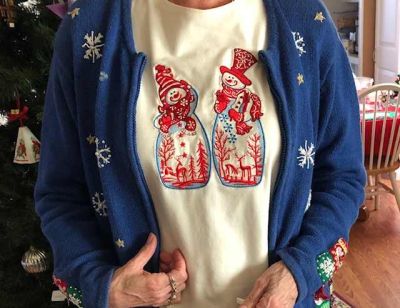 A simple and good gift for the winter holidays is warm or home clothes. Decorate it with machine embroidery with symbols of the season, such as snowmen, snowflakes, winter forest landscapes. All this will give even the most ordinary product a festive look. The bright colors of these snowmen will give a festive mood to anyone who wears this T-shirt. Embroidery on shirts or sweatshirts is quite a simple matter. The main thing to choose a quality product from a good dense fabric and use the same good stabilizer. Embroidered clothing allows you to use it after the end of the holiday.
Our benefits:

Instant download design after paid


Over 14 embroidery formats

Tested embroidery designs


Progressive discount system

Several sizes with one payment

No VAT and FEE , we pay it.

Additional bonus free embroidery designs



New embroidery projects
with our works
New free embroidery designs
available only for customers via our Reward Points program
Last photos 
All photos with our embroidery designs in Gallery
Look at a huge number of beautiful and successful real projects with our work. You can us tags for search.