Check out this adorable machine embroidery design that will be perfect as a birthday present decoration for your little ones! It features a cute beige teddy bear with a red heart-shaped pillow. The teddy bear is sitting on a green meadow and is wearing a blue scarf wrapped around its neck. The color palette in this needlework comes as a mix of pink, red, blue, yellow, beige and green. You can use this original embroidery design to decorate all sorts of presents and home decor items, for example cushions, towels, napkins, patchwork compositions, pajamas, bathrobes, blankets, T-shirts and more.
Please look similar popular patterns.
Comments
Posted by
crudis
on
Oct 4th, 2013
Thanks for that, I'm finding the conversion rate to be odd? AU to higher than US but the AU $ charged seems to be higher on your link below? Its a small amount I know but wasn't sure if it was manually done or not. Thanks,
Posted by
Support
on
Jan 17th, 2018
crudis Conversion rate, not our option- this PayPal or bank rate
Posted by
HappyWife29
on
Mar 5th, 2020
Absolutely adorable teddy bear! Stitched well, and customer was so happy with finished product.
You must be logged in to leave a reply.
Login »
How to use this design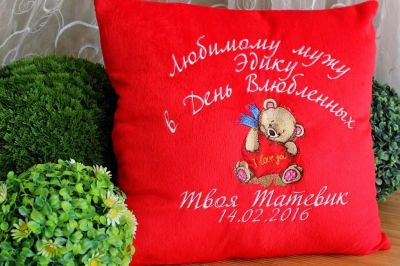 Pillows with embroidery is a very common element of the decor of a modern house. They can be seen almost everywhere, in the kitchen and in the dining room, children's room and living room. They always find a place in the warm season and in the garden. In addition to the practical function, it is also a wonderful gift. A large field provides the creative person with ample opportunities. You can decorate it with embroidery for the new year and Christmas, to create a romantic mood for Valentine's Day. If you are thinking about a birthday present or a newborn, then a pillow will be an opportunity to make a beautiful thing with a memorable inscription. Teddy bear embroidered with the child's name and wishes will be an excellent option to remember the first days of the baby. The love of parents even after years will remain in material embodiment.
Our benefits:

Instant download design after paid


Over 14 embroidery formats

Tested embroidery designs


Progressive discount system

Several sizes with one payment

No VAT and FEE , we pay it.

Additional bonus free embroidery designs



New embroidery projects
with our works
New free embroidery designs
available only for customers via our Reward Points program
Last photos 
All photos with our embroidery designs in Gallery
Look at a huge number of beautiful and successful real projects with our work. You can us tags for search.