Sew a pillow or a towel for St. Valentine's Day? Then our design of teddy bears with heart will perfectly suit you. This is a recognizable and popular story. It will always be a pleasant gift for people of any age.
Attention. The design is not compatible with the hoop 4 x 4.
If you are looking for designs for other gifts, look at other Romantic patterns 
Please look similar popular patterns.


Comments
Posted by
JamieRust
on
Jan 21st, 2020
Great design... stitched out perfectly... I embroidered it on a hand towel for my daughter... so nice! Thanks!
You must be logged in to leave a reply.
Login »
How to use this design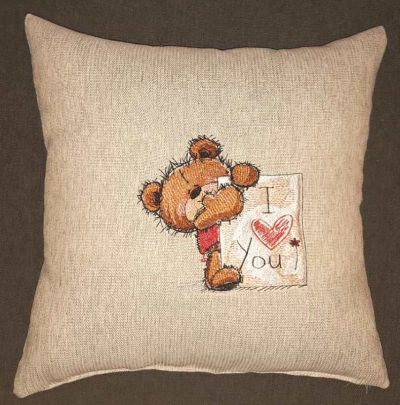 Gifts are different. Big and small, expensive and not very. And there are things donated from the heart, from the heart. How to show that a person is dear to you. that you have feelings for him. The best option is to make a gift with your own hands. Then everything will be clear that you have spent not your money, but your time and energy.
If you have an embroidery machine and experience in needlework and sewing business, the issue is simplified. You can do anything. And the main thing such a thing can not be bought in the store. there is no second such anywhere. An embroidered teddy bear with a painted heart is best for Valentine's Day. Let the dear become the highlight of this day. And for many years pleasant memories will remain. Making a pillow is not difficult. If there is no time or fabric. Buy ready. Choose from a plain fabric without patterns. Let the main element on it will be your embroidered design.
Our benefits:

Instant download design after paid


Over 14 embroidery formats

Tested embroidery designs


Progressive discount system

Several sizes with one payment

No VAT and FEE , we pay it.

Additional bonus free embroidery designs



New embroidery projects
with our works
New free embroidery designs
available only for customers via our Reward Points program
Last photos 
All photos with our embroidery designs in Gallery
Look at a huge number of beautiful and successful real projects with our work. You can us tags for search.