Ballet embroidery dress
Even the plainest dress can be made pretty with this delicate machine embroidery design depicting a pair of ballet shoes. It features an image that everyone is, perhaps, familiar since childhood, for it popped right out of a famous cartoon of the old days.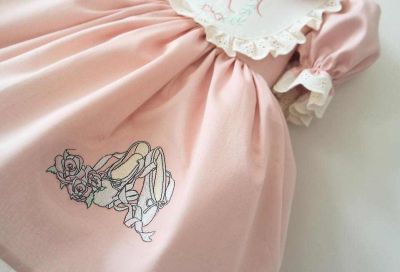 The easiest part to embroider in a little dress is most often the skirt. It has enough fabric to hoop without much difficulty. However, a small design may also be embroidered on the chest or pocket or even cuff. A collar is another place that jumps to mind. For embroidery on the places that are hard to reach you'll probably need a pocket frame. If you don't have one, you may try to hoop a piece of stabilizer and glue the dress to it with an adhesive.
Let's assume that you've decided to embroider the skirt. Place your design pattern in the place where you want your future design to be and mark the center point, the vertical and horizontal axis lines with a water-soluble pen. A useful tip: skirts are much easier to hoop when placed over an ironing board. The bed of an ironing board tapers on one side, so even a small girl's dress is easy to fit over it.
Pick the smallest of your hoops and place the inner hoop on your ironing board. Cover it with a piece of stabilizer. A soft and pliable tearaway or a cutaway stabilizer of a fine quality is preferable, for we don't want a dress to be too stiff. Place the skirt of a dress over the stabilizer and put the outer hoop on top of it. Tighten the hoop and attach it to the machine. Check that no parts of the dress are caught under the hoop, for the machine will stitch right through several layers and you'll have a nightmare trying to put it all back the way it was. Load the design, move the needle so that it is directly above the center point of the design and hit the start button.
Kids' clothes are often laundered, for obvious reasons. Therefore, it is better to use durable and washable threads for pointe machine embroidery, such as polyester or rayon. Silk and metallic threads look beautiful, no doubt, but fade quickly.
After the machine has finished the embroidery, detach and loosen the hoop, trim away the extra stabilizer and iron the design with a dry iron.
Comments
No comments. Leave a comment ...
You must be logged in to leave a reply.
Login »
Last photos 
All photos with our embroidery designs in Gallery
Look at a huge number of beautiful and successful real projects with our work. You can us tags for search.