Embroidered towel with cat design
Let's say it: cats really rule the world. All those who love our cute furriends but cannot own a cat for some reason will be happy to have this lovely kitty embroidery design instead.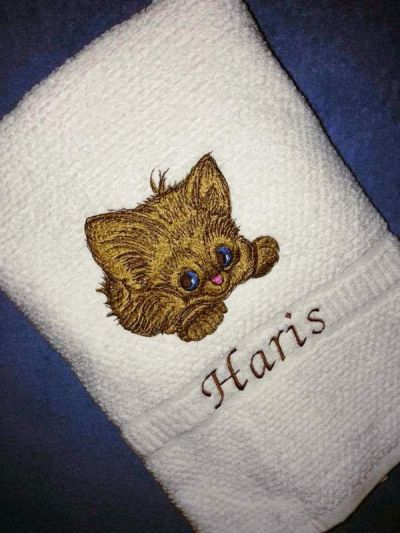 An embroidered animal is better than the real one at least in one aspect: it is impossible to get allergic to it.
Animal embroidery designs look wonderful on sole colored towels. Suppose you're determined to embroider a bath towel set. Machine embroidery on terry cloth is a tricky matter, but here are some tips that will make it much easier.
Even if you have just bought your towels, launder them prior to the embroidery – terry cloth may shrink, and you'll be left with a badly warped picture. Do not choose an overcomplicated design with too many stitches, it will look untidy on a fabric that has soft loops.
There are two kinds of terry cloth: thin and thick. You may hoop the thin one, but the voluminous terry cloth is better left unhooped in order to avoid hoop burn. Both kinds need backing AND topping. A medium-weight tearaway stabilizer (for simple designs) or a medium-weight cutaway one (for intricate designs) + a water-soluble film on top. Why does one need a topping at all? It prevents stitches from sinking into the fabric.
Thin towels are hooped together with the stabilizer (you can additionally secure them with temporary spray adhesive). Size 11 or 14 needle is the kind you need. Thick towels are glued to the hooped stabilizer with a temporary spray adhesive and then the whole thing is positioned into the machine. After the embroidery has been completed, carefully remove the stabilizer leftovers from the wrong side and rub away the film with wet fingers.
Congratulations! Enjoy your new terry towel set with a cat embroidery design for years to come!
Comments
No comments. Leave a comment ...
You must be logged in to leave a reply.
Login »
New free embroidery designs
available only for customers via our Reward Points program
Last photos 
All photos with our embroidery designs in Gallery
Look at a huge number of beautiful and successful real projects with our work. You can us tags for search.