Embroidered girl's dress
Kids are, probably, the ones that enjoy Christmas the most. If you have a little sister, daughter, granddaughter or niece at home, right now it's time to think about a super special holiday dress.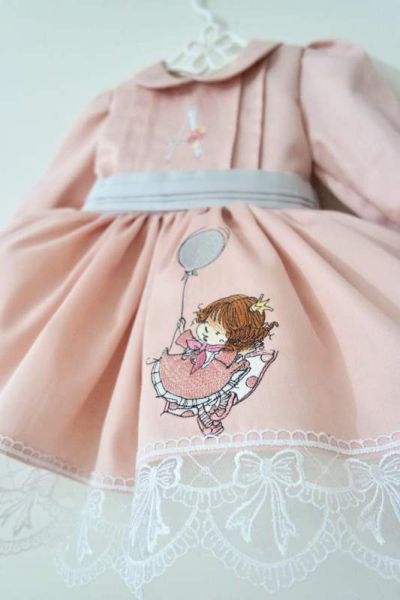 Tired of the ubiquitous angels, flowers, fir-trees, and stars? Take this machine embroidery design depicting a cute little girl with a balloon. Use it to decorate a handmade or a ready-made dress to get your princess really excited!
In case you're making the dress yourself, it'd be easier to embroider the required part before sewing all of the pieces together. The most popular places for decoration are the chest and the skirt front. You can also put an embroidery design a pocket – that is, if it's big enough.
The best baby embroidery designs have clean and simple lines. Overly elaborate designs that contain too many stitches will a) look ridiculous on a little girl's attire b) make the garment uncomfortable to wear, for even princesses do like noisy games that involve quite a lot of physical activity.
For sewing a design onto a pocket, it's better to use a special pocket frame to avoid damaging the delicate fabric. If you wish to decorate a skirt, just glue it to a hooped stabilizer of a cutaway variety with a temporary spray adhesive. Don't forget to launder the dress prior to the embroidery so that the fabric doesn't shrink, warping the design. If you're planning to put the dress into the washing machine rather often, polyester threads will be the optimal choice: they do not break so easily as the rayon ones, they do have almost the same sheen, and they withstand repeated washings without losing their look. If the dress will only be used on special occasions, you can decorate it with metallic threads and achieve a wonderful glittering effect. The design will sparkle in the Christmas lights!
Comments
No comments. Leave a comment ...
You must be logged in to leave a reply.
Login »
New free embroidery designs
available only for customers via our Reward Points program
Last photos 
All photos with our embroidery designs in Gallery
Look at a huge number of beautiful and successful real projects with our work. You can us tags for search.